Samsung has recently launched its S9 tablets, Samsung Galaxy Z flip 5 and Samsung Galaxy Z fold 5 in the latest Unpacked event. Now, leaks suggest that Samsung is preparing for the launch of its Galaxy S24 series possibly happening early next year. Several Samsung Galaxy S24 Leaks have surfaced online. The tipster Ice Universe has revealed interesting details about the highly anticipated phone.
Samsung Galaxy S24 Series Leaks:
Design and Display
A popular leakster Ice Universe mentions through their Twitter page that Galaxy S24 and S24+ will be coming with a few design changes. As per the tipster, Samsung Galaxy S24 and S24+ are likely to get flatter such as Meizu 20 which receives a vertical frame design similar to iPhone.
Therefore fans can expect the Samsung Galaxy S24 and S24+ to look more like a current iPhone with a flatter and vertical frame. You may also have noticed that the Samsung Galaxy S23+ looks similar to iPhone 14 from the front. But now fans will be noticing even more similarities on S24+.
Talking on previous Samsung Galaxy S23 and S23 Plus designs featured flat backs but a slightly bulging middle frame while the Samsung Galaxy S23 Ultra followed the flatter design trend with a slightly flatter frame. Furthermore, a similar trend is expected to now be seen in Samsung Galaxy S24 and S24+.
Samsung packs a strong punch when it comes to display and camera. Now, anticipated adjustments in the Galaxy S24+ reveal a marginal increase in display size. It is projected to reach 6.65 inches as opposed to its precursor's 6.6-inch Dynamic AMOLED 2X screen.
Meanwhile, the Galaxy S24 Ultra maintains continuity by refraining from introducing variable zoom capabilities, opting to retain the quad-camera configuration from its predecessor. Furthermore, there is no information suggesting that the selfie camera is getting any significant upgrades.

In terms of design, the upcoming Galaxy S24 and S24+ variants are anticipated to showcase a refined LTPO display, characterized by slimmer bezels. Noted tipster Ice Universe has shared these insights. Meanwhile, the Galaxy S24 Ultra is poised to continue the design legacy of its predecessor, the S23 Ultra. Rumors also suggest the potential incorporation of a titanium frame in the Ultra model.
S24+ Performance Leaks
The Samsung Galaxy S24+ with Snapdragon 8 Gen 3 running Geekbench 6 has been spotted for the first time. In the realm of cutting-edge technology, Qualcomm's impending release of the Snapdragon 8 Gen 3 chipset has ignited huge interest. Recent findings from a Geekbench benchmark offer a glimpse into the CPU configuration of this forthcoming powerhouse. Notably departing from its predecessor, the Snapdragon 8 Gen 2, the Gen 3 variant presents a novel arrangement of cores and clock speeds.
Reports indicate that the Snapdragon 8 Gen 3 is rumored to adopt a configuration featuring a prime core clocked at an impressive 3.30GHz. Further specifications encompass three performance cores operating at 3.15GHz, two additional performance cores running at 2.96GHz, and a duo of efficiency cores ticking along at 2.27GHz. This shift underscores a departure from the uniform frequencies of its predecessor and offers promise in terms of augmented performance capabilities.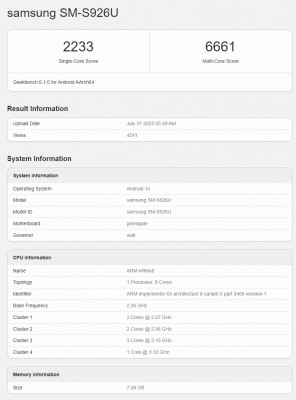 While specifics surrounding the exact core designs remain a mystery, industry speculation points toward ARM's new Cortex-X4, A720, and A520 cores as potential candidates. This revamped foundation of processing power propels the Snapdragon 8 Gen 3 into the spotlight, boasting an impressive 12% surge in single-core benchmarks and an even more remarkable 26% surge in multi-core benchmarks when compared to the Snapdragon 8 Gen 2.
However, as the Snapdragon 8 Gen 3 prepares to make its debut, it finds itself on a competitive playing field. Apple's A17 chip, backed by the advantage of the 3nm manufacturing process, stands as a formidable rival. Apple's strategic claim on the 3nm technology grants its A17 chip a distinct edge in the ongoing battle for technological supremacy.
Anticipation mounts as the calendar approaches October, the expected timeline for Qualcomm's official unveiling of the Snapdragon 8 Gen 3. As Qualcomm gears up for this momentous reveal, industry enthusiasts also eagerly await the dawn of a new era with Samsung's Galaxy S24 series, set to debut in the early months of the following year, showcasing the much-anticipated Snapdragon 8 Gen 3 at its core.
Performance
Samsung's Flagships have always been known for their lightening fast performance. Similarly, the Samsung Galaxy S24+ has been tested using Geekbench 6, yielding single-core and multi-core results of 2233 and 6661, respectively. The benchmark verifies that the S24+ will likely be powered by a Snapdragon 8 Gen 3 processor and 8GB of RAM.
Not only the introduction of Snapdragon Gen 3 processors but The resurrection of the Samsung Exynos 2400 processor has been confirmed by Tipper Ice Universe, suggesting that not all Galaxy S24 models will have the same chipset.
The Exynos 2400 is anticipated to contain 10 CPU cores, and it is said that it performs better on GPU benchmarks than the Snapdragon 8 Gen 3. This processor's actual performance is keenly awaited. This CPU is anticipated to arrive in several parts of Europe and Asia.
Battery
Samsung has done some slight improvements in the battery department. The battery capacity of the next Galaxy S24+ and S24 Ultra variants is anticipated to increase. According to the TUV certification database, the S24+ will have a battery with a capacity of 4755mAh (usual value: 4900mAh) instead of the S23+'s 4700mAh.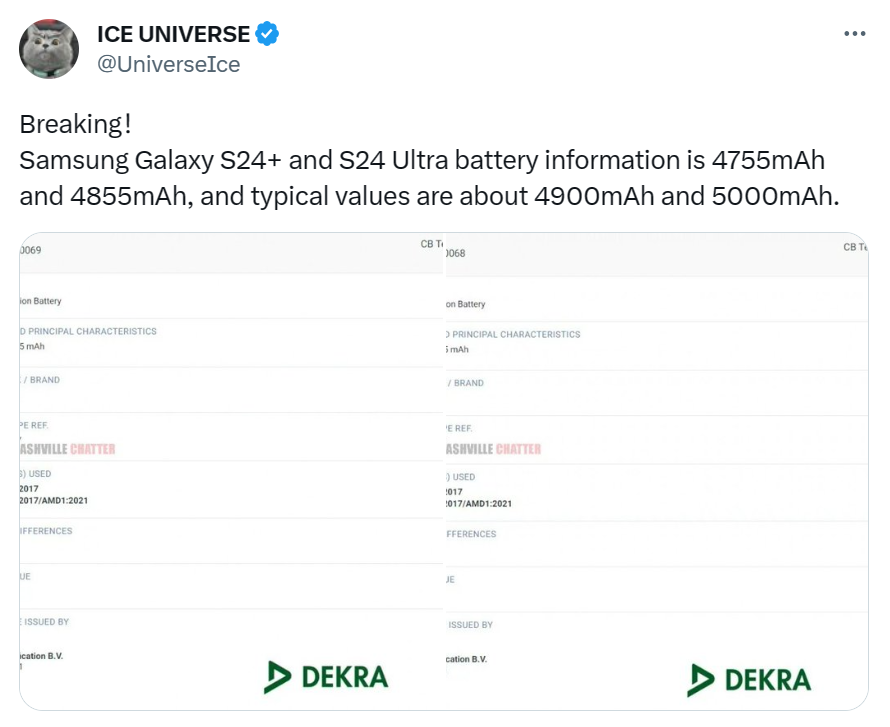 The S24 Ultra, on the other hand, will continue to have the same 4855mAh capacity as its predecessor. According to rumors, the S24 series may offer 65W charging that is done more quickly by utilizing the same battery technology used for electric vehicles.
While you're here do watch the impressions video of the Samsung Galaxy Z Flip 5 and Z Fold 5 by MKBHD,
Also, do check out these featured articles,